Translate this page into:

doi:
10.25259/IJPC_10_2021
Role of Manual Therapy for Neck Pain and Quality of Life in Head and Neck Cancer Survivors: A Systematic Review
1
Department of Oncology Physiotherapy, KAHER Institute of Physiotherapy

,

Belgaum, Karnataka

,

India
*
Corresponding author: Renu B Pattanshetty, Prof and Head, Department of Oncology Physiotherapy, KAHER Institute of Physiotherapy, Nehru Nagar, Belagavi, Karnataka, India. renu_kori@rediffmail.com
Received: , Accepted: ,
© 2022 Published by Scientific Scholar on behalf of Indian Journal of Palliative Care
Licence
This is an open-access article distributed under the terms of the Creative Commons Attribution-Non Commercial-Share Alike 4.0 License, which allows others to remix, transform, and build upon the work non-commercially, as long as the author is credited and the new creations are licensed under the identical terms.
How to cite this article: Pattanshetty RB, Patil SN. Role of Manual Therapy for Neck Pain and Quality of Life in Head and Neck Cancer Survivors: A Systematic Review. Indian J Palliat Care 2022;28:99-112.
Abstract
Background:
Pain is the one the most dreadful side effects of head and neck cancers and cancer related treatments affecting patients during and after the treatment adding to the problems affecting their ability to speak, swallow, breath and feeding. Manual therapy is standard set of physiotherapy treatments used for alleviating neck pain. It has found to be effective in small subset of cancer patients for relieving pain.
Objectives:
To highlight the use of various manual therapy techniques focusing in decreasing neck pain and improving quality of life in Head and Neck Cancer survivors that may suggest its safe utilisation in oncology rehabilitation.
Materials and Methods:
Electronic search was conducted in PubMed, Google Scholar, CINAHL, Pedro, and COCHRANE databases. Reference lists of the included studies and relevant reviews were manually searched. Studies that met the inclusion criteria were evaluated using McMaster critical review form for quantitative studies. A descriptive synthesis was undertaken due to the heterogeneity of the included studies.
Results:
Seven studies were assessed for risk of bias that comprised of three clinical trials, one case series and three case reports that applied Maitland's mobilisation, Myofascial release, Muscle Energy Techniques to head and neck cancer survivors in various clinical settings. The outcomes highlighted decrease in pain, improvement in cervical range of motion and quality of life.
Conclusion:
This review recommends application of manual therapy to head and neck cancer survivors. However, authors caution application of manual therapy in terms of choosing a particular technique. Further, well designed larger sample size with randomisation and double blinding would help to generate better evidence for head and neck cancer survivors.
Keywords
Head and neck neoplasms
Musculoskeletal manipulations
Neck pain
Quality of life
Soft tissue mobilisation
INTRODUCTION
Head and neck cancers (HNCs) are the sixth common malignancies universally. India holds the second position in the highest number of oral cancer cases contributing to almost 1/3rd of the total burden of cancers including malignancies of nasopharynx, oropharynx, hypopharynx, larynx, salivary gland tumours, paranasal and nasal sinus cancers accounting for 30–40% of oral cancers in India.[1,2] Smoking, alcohol intake and tobacco chewing remain the main causes HNCs. Human papillomavirus and Epstein-Barr virus infections are two more established risk factors.[3-5]
As the disease is locally progressed in more than 60% of patients at the time of diagnosis, a multimodal treatment approach involving surgery, radiation and chemotherapy are usually advised. The current standard treatment is a combination of radiation and chemotherapy when the tumour seems to be unresectable.[4] Radiation is the localized treatment option that most of the times leads to skin changes, fibrosis and stiffness in and around neck and shoulder region affecting extensibility of neck muscles.[6,7] Post-surgical complications include substantial scar tissue formation and muscle dysfunction resulting in motion deficits at neck and shoulder.[8] Neuropathies, weakness and nausea are other common side effects due to chemotherapy.[9]
Pain is the most disabling symptom affecting 80% of HNC survivors. Chronic pain is said to cause sleep disturbances, low appetite and confusions leading to physical decline and decreased quality of life (QOL).[5] The majority of the patients experience myofascial pain that may be identified as intense deep pain arising from one or more muscles or fascia that vary from 11.9% to 44.8% in HNC and breast cancers.[10,11] Grossly, the treatment of HNC related pain is clinical challenge for rehabilitation. A variety of non-invasive pain management treatments for chronic cancer pain are optimally utilised globally including electrical modalities such as transcutaneous electrical nerve stimulation and various manual therapy techniques.[12,13] Manual therapy approaches are part of routine standard protocol in pain management for orthopaedic disorders. However, manual therapy techniques in cancer are considered as relative contraindication.[13-15] Literature suggests that cancer patients suffering from breast cancer, and HNCs have demonstrated improvement in shoulder movements with use of manual therapies.[13,16] Myofascial release (MFR) and muscles energy techniques (MET) have proved to be beneficial in pain management and thus improving QOL.[15,16] Hence, the objective of the present study was to highlight the evidence of the effectiveness of various manual therapy techniques focusing on neck pain and its effect on QOL in HNC survivors that may have clinical relevance.
MATERIALS AND METHODS
The PRISMA checklist was used to report this review. The PICO format was utilised in the development search strategy with search terms and limits relating to head and cancer patients for studies to be included following PICOS format was considered.[17]
All studies with experimental design/clinical designs published only in English language between 2010 and 2020 having HNC survivors as their participants with age more than 18 years and having complaints of neck pain (acute/ sub-acute/chronic) and decreased QOL undergoing any manual therapy intervention such as soft tissue techniques and joint mobilisation compared to usual physiotherapy care. The studies having any Chinese or Japanese therapy, massage, dry needling and acupuncture as their intervention were excluded. Along with these, abstracts only studies, study protocols and grey literature also excluded.
The search strategy was developed with the discussion among the authors and Gadad R, Rao M, Pawar N who independently searched the 5 databases during December 2020 which includes PubMed, Google Scholar, CINAHL, Pedro and Cochrane using the key words "Quality of life," "Neck pain," "Head and neck neoplasms," "Manual therapy," "Joint mobilisation and manipulation" and "Soft tissue mobilization." From these databases, articles were selected using eligibility criteria and then screened by the Patel, Patil independent researchers. The authors assessed title and abstract of each study. Full versions of the texts were retrieved of those articles that met inclusion criteria. All included studies' reference lists were checked for any relevant studies that were not identified using an electronic search. In case of different outcomes of search results, the reviewers met to discuss with Pattanshetty to resolve the issue.
Study design
Quantitative studies comprising randomised controlled trials, clinical trials including quasi-experimental research, case series and case studies published between 2010 and 2020 were considered for inclusion.
Population
The studies were included if participants were adults (>18 years of age) of either gender, participants in the studies must be diagnosed with any type of HNC receiving any of the following treatments such as Surgery, chemotherapy, radiotherapy any adjuvant therapy and experiencing pain in their neck region.
Intervention
Manual therapy techniques included mobilisation, manipulation and soft tissue techniques performed on the HNC patients by physiotherapist/osteopaths. The manual therapy interventions were not limited to mobilisation and manipulation. It also included transverse friction massage, MET, MFR, active release technique, positional release technique, Bowen technique and Cyriax, Graston.
Comparator
Accepted comparators were, no intervention group, other physiotherapeutic usual care comprising stretching and strengthening exercises.
Outcome
Outcomes of interest were outcomes for pain in neck, QOL and Range of motion of cervical region though the search was not limited to any specific outcomes.
Literature search
Once the search strategy was developed, a review protocol was established. Databases were searched for studies and duplicates were eliminated. The relevant studies' full texts were then independently analysed by Gadad et al. to determine their eligibility for the PICO criteria. Any disagreements were resolved by discussion or with other reviewer, where required.
Data extraction
Data extraction was done by Pattanshetty and Patil. It was performed using Microsoft Excel that included study design, participants' demographic data, interventions, their duration, dose and frequency, method of randomisation and allocation, selection of outcome measures and statistical analysis. Any disagreement was resolved through discussion.
Quality assessment
All the studies that were included were reviewed independently and graded as per National Health and Medical Research Council (NHMRC) hierarchy of evidence by all reviewers.[18] Any disagreements were resolved by discussion where required. A modified McMaster Critical Review Form for Quantitative Studies was used to assess the quality of the studies included in the review.[19] Dependent on the research design and applicable components, the maximum total score of a study was 14. Each study was independently rated by each reviewer, and any disagreements were resolved by discussion [Table 1].
Studies
Study design
NHMRC Level
Items on modified McMaster critical review form
Score
1
2
3
4a
4b
4c
5a
5b
6a
6b
6c
7a
7b
7c
7d
8
Pattanshetty and Khanna[25]
Pre-–post-experimental studies
III-2
Y
Y
15
N
N
Y
Y
Y
N/A
NAD
Y
Y
Y
N
Y
9/12
75%
Parab et al.[26]
Randomised Clinical Trial
III-2
Y
Y
24
Y
Y
Y
Y
Y
N/A
NAD
Y
Y
Y
N
Y
11/12
91.6%
Felser et al.[27]
Pre-and post-pilot experimental studies
III-2
Y
Y
12
Y
N
Y
Y
NAD
Y
N
Y
Y
Y
Y
Y
11/13
84.61%
Krisciunas et al.[28]
Case series
IV
Y
Y
5
Y
N
Y
Y
Y
N/A
N
N
NAD
Y
N
Y
8/10
80%
Gugliotti[29]
Case Report
IV
Y
Y
1
Y
N/A
Y
Y
Y
N/A
N
N
NAD
Y
N/A
Y
8/10
80%
Carter[30]
Case Report
IV
Y
Y
1
Y
N/A
Y
Y
Y
N/A
N
N
NAD
Y
N/A
Y
8/10
80%
Kawczynski et al.[31]
Case Report
IV
Y
N
1
N
N/A
Y
Y
N
N/A
N
N
NAD
Y
N/A
Y
5/10
50%
RESULTS
Study selection
In the database search, 8653 results found 6478 duplicates were removed. The selected 217 studies were screened and 2164 studies excluded (abstract and title), and 11 full text studies were screened according to eligibility criteria and 04 studies excluded and 07 studies found to be eligible for the current study and was included in the review.[25-31] PRISMA flow chart outlined in [Figure 1].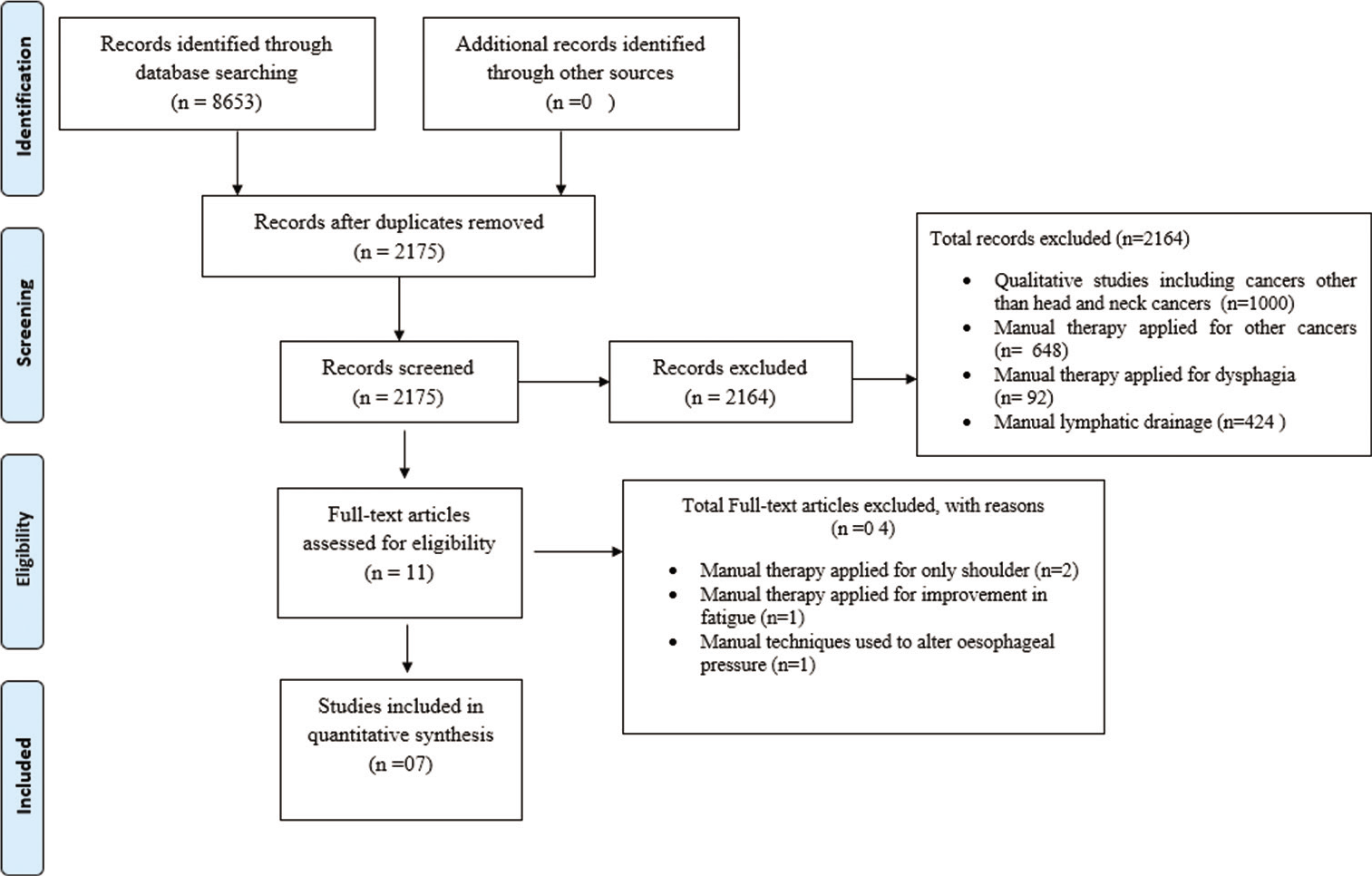 Study characteristics
[Table 2] (data extraction) shows summary of all studies. Included quantitative studies were conducted in different countries; 3 studies (2 case report and 1 case series) in USA, 2 studies (2 clinical trials) in India, (pre post experimental study) in Germany and 1 (case report) in Poland.[25-31] All were published between 2010 and 2020. All studies were conducted for duration 6 days to 12 weeks having HNC patients as their study population.
Sr. No.
Author
Year
Country
Study design
Participants
Sample size
Manual therapy intervention
Co-
intervention
Duration
Outcome Addressed
Results/Conclusion
1
Pattanshetty and Khanna[25]
2017
India
Pre-post experimental
Operated Head and Neck Cancer Patients
15
1. 1.Maitland mobilisation to cervical spine
2. Muscle Energy Technique for cervical rotators and side flexors
3. Cyriax soft tissue release to sub cranial region transverse friction technique was applied to maximum soft tissue restriction
Intra-oral soft tissue mobilization
6 Days
1. NPRS
2. FACT H&N
3. Cervical ROM
4. Neck disability Index
Statistically significant improvement in pain, Range of motion of Cervical Spine, Quality of life and scores of Neck disability Index were observed
2.
Parab
et al.[26]
2019
India
Randomised clinical trial
Operated Head and Neck Cancer Patients
24 (12-MFR and 12-MET)
1. Myofascial release to lateral aspect of neck (involved side)
2. Muscle Energy Technique to cervical side flexors of involved side
Nil
6 days
1. Neck Disability Index
2. Pressure pain threshold (pressure algometer)
3. Cervical Range of Motion
4. FACT H&N
Statistically significant improvement seen in pain, neck disability scores and cervical range of motion in both groups. QOL statistically insignificant in both groups
3.
Felser
et al.[27]
2020
Germany
Pre-post
Head and Neck cancer patients
12
Mobilisation exercises of cervical and thoracic spine
Resistance, balance, coordination training and stretching exercises.
12 weeks
(2 training session/week)
1. EORTC QLQ C-30
2. QLQ-HN35
Statistically significant changes were seen in QLQ C-30 in physical, social, cognition function andQLQ-HN35 showed significant improvement in sexuality
4.
Krisciunas
et al.[28]
2015
USA (Boston)
Case–series
Head and neck cancer Patients undergoing Radiation therapy
5
1. Upper cervical mobilization techniques, and atlantooccipital and atlantoaxial mobilization for craniocervical flexion and extension
2. Upper Thoracic mobilization techniques
3. Manual stretching techniques for muscles of mastication, medial and lateral pterygoids, suboccipitals including splenius capitus and cervicus, sternocleidomastoid, upper trapezius, levator scapulae, pectoralis minor
Muscle retraining and endurance exercise of deep neck flexors (longus coli and capitus), posterior cervical muscles including multifidi, semi spinalis capitus, cervicus, and posterior scapulothoracic muscles including middle trapezius, rhomboids, lower trapezius
30 min/radiation therapy session (10 min self-administered manual therapy session at home)
1. Wong Baker Pain Faces Scale
2. Cervical ROM
Improvement in pain and cervical range of motion were observed post treatment
5.
Gugliotti[29]
2011
USA (New York)
Case Report
Operated Head and Neck Cancer patient
1
1. Soft tissue mobilization was applied to the left anterolateral structures of the neck and postero-lateral structures of the left subcranial region
2. Manual muscle lengthening was performed using contract-relax to the left scalenes, sternocleidomastoid, upper trapezius, and posterior subcranial muscles
3. Maitland Grade III and IV mobilization was applied through the left posterior articular pillars of the mid and lower cervical vertebrae in order to increase right rotation. 3 sets of 30 s intervals was performed
4. Mobilisation was given to right cervical spine to increase right lateral flexion
5. Muscle energy technique was given for side flexors and contralateral rotators. (3–5 repetition)
1. Strengthening of trapezius
2. Shoulder muscle strengthening exercises
8 sessions over 3 week
1.NPRS
2. Neck Disability Index
3. Cervical ROM
Reduction in pain, increase range of motion, and normalize arthrokinematic motion of the cervical spine was observed post treatment
6.
Carter[30]
2015
USA (Florida)
Case Report
Head and Neck Cancer patient
1
1. Up glides and down glides of C4-5 and C5-6. Grade III and IV
2. Sub occipital release was sustained for 2 minutes followed by C0-C1 flexion mobilization
3. Soft tissue mobilization given to suboccipitals, paraspinals, upper trapezius, scalene, sternocleidomastoids, infrahyoids, and suprahyoids
1. Cervical active range of motion
2. Cervical retraction, scapular retraction, and supine deep neck flexor endurance training to maintain cervical mobility, deep neck flexor endurance, posture, and muscle length
3. Shoulder shrugs for trapezius strengthening.
4. TMJ mobilisation
5. Shoulder ROM
6. CDT to face and lymphedema specific exercises to prevent lymphedema
6 weeks
1. NPRS
2. Cervical ROM
3. FACT-G
Reduction in pain, increase in Range of motion and improvement in Quality of Life was observed
7.
Kawczyński et al.[31]
2018
Poland
Case Report
Head and Neck Cancer patient
1
1. Myofascial release upper part of the trapezius muscle, semispinalis and splenius capitis, base of the skull, releasing the scar tissue, sternocleidomastoid muscle, infra-and suprahyoid muscles
2. Post-isometric relaxation the upper part of the trapezius muscle, sternocleidomastoid muscle, suboccipital muscles
Stabilizing reversals scapular pattern.
6 sessions over 3 weeks (2 session of 30 minutes/week)
1. NPRS
2. Cervical ROM
3. Edmonton Symptom Assessment Scale (ESAS)
Reduction in pain, increase in range of motion and general improvement was observed
Participant characteristics
Among the studies, total 59 adult participants underwent various manual therapy techniques for average 6 days to 12 weeks, where majority of the patients were post-surgical HNC survivors and some of them underwent radiotherapy and other complimentary therapies.
Methodological quality
Critical appraisal for the seven evidences was performed using McMaster Quantitative critical appraisal Tool. NHMRC level of evidence was determined and scoring was done for each study.
Variation was observed among the study designs that comprised two pre- and post-experimental studies; one randomised clinical trial, one case series and three case reports. Out of seven studies, included three studies belong to NHMRC level of evidence Grade III-2 and remaining four studies followed Grade IV. Highest scores of critical appraisal rated were 91.6% and 84.61% allotted to studies by Parab et al.[26] and Felser et al.[27] Lowest scores amongst all seven studies were allotted to study by Kawczyński et al. 50%.[31] Most studies described relevant adequate background literature, sample size for the study purpose and provided outcome data with its relevance.[26-31] Statistical analysis used for reporting results from clinical trials.[25-27] Most of the studies had inadequate description of intervention and presence of co interventions raised methodological concerns.[27-31] Sample size justification was not reported by Pattanshetty.[25] Randomisation of participants into groups was also reported satisfactorily.[26] Clinical impact of the techniques used in all studies was found to be relevant and well described. The detailed risk of bias explained according to McMaster critical review tool [Table 1].
Intervention type
Participants from 5 studies (out of total 7 studies) were administered manual intervention exclusively in one or the other form in their neck region, shoulder or face region.[25,26,28,29,31] Case reports or case series that described various manual therapy techniques such as Maitland's cervical mobilisation Grade I-IV, MFR to trapezius, scalene, sternocleidomastoid, paraspinal muscles and infrahyoid and suprahyoid muscles, sub occipital release, muscle energy techniques for side flexors of cervical spine.[28-31] The case series highlighted upper cervical mobilisation along with manual stretching of SCM trapezius, levator scapulae and pectorals.[28] Cervical as well as thoracic mobilisation of spine along with muscle strengthening, stretching exercises accompanied by balance and co-ordination exercises was reported.[27] In post-operative patients cyriax technique for sub occipital region and MFR and MET for affected side of neck muscles were administered.[25]
Outcome measures
Outcome measures for pain and QOL were varied in the seven studies including numerical pain rating scale, pressure algometer, Wong Baker pain face scale and Edmonton symptoms assessment scale.[25-26,28-31] In all studies, manual therapy techniques improved the neck pain significantly in the participants.
Various manual therapy intervention administered on the patients did have an impact on their QOL which was examined by administration of FACT-G, FACT H&N, EORTC QLQC30, and QLQ HN35 and reported positive significant impression on QOL [Table 3].[25,26,27,30]
Studies
Outcome measure
Pain
Quality of Life
NPRS
Pressure algometer
Wong Baker Pain Face scale
Edmonton Symptom Assessment Scale
FACT H&N
FACT-G
EORTC QLQ
C-30
EORTC QLQ
HN35
Neck disability index
Cervical Range of Motion
Pattanshetty and Khanna[25]
+
+
+
+
Parab et al.[26]
+
+
+
+
Felser et al.[27]
+
+
+
Krisciunas et al.[28]
+
+
Gugliotti[29]
+
+
+
Carter[30]
+
+
+
Kawczynski
et al.[31]
+
+
+
Results of individual studies
Results of seven included studies are described in [Table 4]. Cervical joint mobilisation, MET, Cyriax and MFR exclusively applied to post-operated HNC survivors to neck region which found to be effective in terms of reducing pain and increasing range of motion.[25,26,29] Positive impact of cervical as well as thoracic mobilisation reported on QOL.[27] The combined effect of cervical mobilisation, MFR during radiation focusing on prevented tightness in the muscles and stiffness of the cervical joints.[28] Soft tissue techniques, post isometric relaxation and MFR to neck muscles accompanied with scar tissue mobilisation reported participant's overall improvement along with reduction of the symptoms.[31]
Studies
Manual therapy intervention
Outcome measures
Pain
Quality of Life
NPRS
Pressure algometer
Wong Baker Pain Face scale
Edmonton Symptom Assessment Scale
FACT
H&N
FACT-G
EORTC QLQ C-30
QLQ HN35
Neck disability index
Cervical Range of Motion
Pattanshetty and Khanna[25]
Maitland mobilisation MET
Cyriax
↓(+)*
↑(+)*
↓(+)*
↑(+)*
Parab
et al.[26]
MFR
MET
↓(+)*
↑(+)?
↓(+)*
↑(+)*
Felser
et al.[27]
Cervical
mobilisation
↑ (+)?
↑ (+)?
Krisciunas
et al.[28]
Cervical mobilisation
MFR
↓(+)?
↑ (+)?
Gugliotti[29]
Soft tissue mobilisation Contract relax Maitland mobilisation
MET
↓(+)?
↓ (+)?
↑ (+)?
Carter[30]
Grade III and IV mobilisation C4-C5 and
C5-C6
Sub occipital release
Soft tissue mobilisation to
neck muscles.
↓(+)?
↑ (+)?
↑ (+)?
Kawczynski
et al.[31]
MFR
Post isometric relaxation
↓(+)?
↓ (+)?
↑ (+)?
Effect of mobilization
Maitland's cervical mobilisation was used on participants in five studies.[25,27-30] For middle and lower cervical vertebrae and upper thoracic vertebrae Grade III and IV of Maitland's mobilisation was applied which improved movement restriction of cervical rotations, flexion, extension and lateral flexion, resulting in increased ROM.[30,31]
Maitland's Grade I and II mobilisation when administered to the cervical spine, found a statistically significant alleviation of pain and cervical movement.[25] The duration of these mobilizations ranged from 6 days in a row to 6 weeks of alternate day sessions. Overall, Maitland's cervical mobilisation Grades I, II, III and IV produced pain alleviation and enhanced cervical ranges, improving their QOL without any side effects.
Effect of soft tissue techniques
Six studies used different kinds of soft tissue techniques that included MFR, MET and cyriax on various muscles of neck region for improvements in muscle spasm and relaxing tension, increasing muscle length to sub occipital muscle group, cervical flexors, extensors, lateral flexors, rotators mainly focussing on sternocleidomastoid, scalenae, trapezius, levator scapulae, and suprahyoid and infrahyoid muscles.[25-31] MFR, MET to lateral flexors and rotator showed statistical and clinical improvement in pain and cervical ranges along with enhancing QOL over period of 6 days.[25,26] Post isometric relaxation, MFR given to anterior, posterior group of muscles of neck for 3 weeks showed improvement in symptoms and over all well-being.[31]
Combined effect of mobilisation and soft tissue techniques
Four studies used combination of Maitland's cervical mobilisation along with MFR, MET, cyriax techniques.[25,28-30] Cervical mobilisation Grade I and II when combined with MET to cervical lateral flexors, rotators and cyriax soft tissue mobilisation to subcranial muscles showed significant improvement in pain, neck disability index, cervical ranges and QOL. Combination of upper and lower cervical mobilisation along with upper thoracic mobilisation Grade III and IV and MFR to the anterior and posterior neck muscles, as well as post isometric relaxation to the cervical lateral flexors and rotators, were found to reduce discomfort, improve cervical lateral flexion and rotation, and increase overall well-being over a 6-week period.
Overall, combined administration of mobilisation and soft tissue techniques have shown improvement in participants' symptoms such as pain, discomfort in neck movements and induced relaxation suggesting consistent positive impact reducing symptoms and enhancing QOL.
NHMRC FORM framework
The synthesis of results reported using the NHMRC FORM framework [Table 5]. Presence of methodological variations affected the grade of recommendation of the study that recommends implementing the manual therapy techniques to target the population but care should be taken while application.
No.
Component
Grade
Comments
1
Evidence base
C- one or two level III studies with low risk of bias or II studies with moderate risk of bias
Total -7 studies
Total participants-59
Level III-2-3 studies
Level IV- 4 studies
2
Consistency
C-Satisfactory
Some inconsistency reflecting genuine uncertainty around clinical question
Multiple study designs
Statistical significance reported in 3/7 studies Finding are consistent
Variation observed in measurement outcome measures and
intervention
3
Clinical impact
B-Good Substantial
Consistent findings of outcomes for pain and QOL No adverse effects reported
Intervention protocols development and implementation described precisely with duration to achieve the desired effects and statistical precision.
Application guidelines across the target population explained
Sample size justification not reported in few studies.
4
Generalizability
B- Good
Populations studied in body of evidence are similar to the target population for the guideline
Population of studies resembles to target population Studies conducted in five different countries that represent variation in health care context
Lacks reporting about comorbidities and its impact on outcomes
Variation seen in the patient population since the time of
diagnosis
5
Grade of recommendation
C- Body of evidence provides some support for recommendation but care should be taken in its application both in terms of choosing the manual therapy technique and the choices of outcome measure in head and neck cancer population
Most studies were low level of evidence with moderate methodological quality
All the interventions described in detail provided clinically replicable consistent positive findings without uncertainty and adverse effects
Most participants' characteristics were similar but differed in stage of cancer and intervention application from the time of diagnosis
DISCUSSION
There is evidence to report effect of physiotherapy treatment protocols in HNC survivors during their cancer treatment.[32-34] Pain is the most common complaint in 80% of the patients that is managed with pharmacological protocol involving NSAID's, opioids and steroids.[5,35]
Besides movement restriction of neck, jaw and shoulder are managed with physical therapy that include utilisation of electrotherapeutic modalities, exercise protocols and manual techniques [12,25-31,35-49] Manual therapy techniques when applied to shoulder and neck region have shown to be effective in improving outcome measures including pain and QOL suggesting their safety. Possible reason for safe utilisation of manual therapy approaches in cancer could be because of their principles based on soft tissue that reduces acute inflammation in response to exercise.[16,50-52]
MET is soft tissue technique that is applied by combining isometric contractions that restores soft tissue structure to near normal providing indirect effect on the joint that is associated with dysfunctional muscle and may normalise joint mobility and its surrounding structures.[52] MET has shown increase joint mobility by restoring normal length-tension relationship of muscles, which are then subjected to adaptive or protective shortening due to intrinsic or external factors such as radiation therapy itself, post-operative scars and muscle guarding in HNC survivors.[16,53,54] The reflex relaxation of the agonist group of muscles after an isometric contraction is said to improve mobility at the neck. It may also be attributed to the action of the Golgi tendon organ and its inhibitory impact on the alpha-motor neuron involved in reflex relaxation. Reciprocal inhibition resulting from antagonist muscle contractions may also explain the reason to improve joint mobility.[16,53,54]
Radiation over targeted area affect muscle and underlying fascia causing tightness, stiffness of the TMJ and upper cervical area in HNC patients.[6,55] Application of MFR aids to stretch the fascia, releasing bonds between fascia and integuments, muscles allowing the connective tissue fibres to reorganise themselves in a functional fashion. This low-load, long-duration stretch allows tissues to lengthen and relax, increasing range of motion of the affected joint and thereby improve flexibility while alleviating pain and stretch tolerance.[56,57]
Maitland's mobilisation is passive technique that is manually applied to joints and related soft tissues at varying speed and amplitudes using physiological and accessory motions for therapeutic purposes.[58,59] Grades I and II are primarily used for treating joints affected by pain including affected TMJ region.[58,59] Grades III and IV are primarily used as stretching manoeuvres and reduce stiffness.[60] When these techniques are combined together and applied to cancer patients has direct impression on patients' pain threshold, movement restriction and mental health.[59]
Overall, manual therapy has substantially demonstrated to alleviate cancer pain and enhance physical function in HNC patients, with the effects lasting until the follow-up. As a result, these interventions have not only provided with an immediate and long-lasting analgesic impact, but also has potential to provide significant benefits for future physical function recovery and enhancing QOL.[13,61]
Limitations of the present systematic review may be attributed to the inclusion of studies published only in English language. The authors may have missed evidence from grey literature and other languages. Variations in selected studies' designs resulted in lack of uniformity in the methodological quality assessment causing interpretation of their results difficult. Since, four studies belonged to Grade IV of NHMRC level of evidence; sample size calculation, randomisation, blinding and statistical analysis were missing.[28-31] The presence of co-interventions such as stretching, strengthening exercises and medications in few studies may have had an impact on pain and range of motion suggesting intervention bias. Diversity of outcome measures used in studies produced difficulty in comparing effect of intervention on pain. Inadequate description of interventions may have added the intervention bias. Thus, in future generalizability of the results may be applied to target population with care and precautions. The patients overall health, consent, understanding of the treatment, integrity of the treatment area, patients' comfort during entire treatment regimen must be considered while application of manual therapy techniques in HNC patients.
The authors suggest conduct of more clinical trials in the specified area to carry out an effective meta-analysis to sum up the data and adding knowledge to the current evidence. Though the intervention in form of manual therapy techniques or other form of exercises have shown improvement in alleviation of neck pain and QOL, inclusion of larger sample size with randomisation and blinding would generate better evidence for HNC survivors.
CONCLUSION
The present study found moderate evidence for application of manual therapy techniques for alleviating neck pain and enhancing QOL. Hence, authors recommend the utilisation of the techniques in the clinical settings. However, care should be taken in their application in terms of choosing the manual therapy technique in head and neck cancer survivors .
Acknowledgement
We thank Patel B, Pawar N, Rao M, and Gadad R for their assistance throughout data extracting and searching process.
Declaration of patient consent
Patient's consent not required as there are no patients in this study.
Financial support and sponsorship
Nil.
Conflicts of interest
There are no conflicts of interest.
Show Sections