Translate this page into:

doi:
10.4103/ijpc.ijpc_69_21
Symptom Management among Patients with Chronic Kidney Disease
Address for correspondence: Dr. Dharshan Rangaswamy, Department of Nephrology, Kasturba Medical College and Hospital, Manipal Academy of Higher Education, Madhavanagar, Udupi, Manipal - 576 104, Karnataka, India. E-mail: dharshan.r@manipal.edu
Received: , Accepted: ,
Copyright: © 2021 Indian Journal of Palliative Care
Licence
This is an open access journal, and articles are distributed under the terms of the Creative Commons Attribution-NonCommercial-ShareAlike 4.0 License, which allows others to remix, tweak, and build upon the work non-commercially, as long as appropriate credit is given and the new creations are licensed under the identical terms.
Disclaimer:
This article was originally published by Wolters Kluwer - Medknow and was migrated to Scientific Scholar after the change of Publisher.
Abstract
Patients with chronic kidney disease (CKD) experience high symptom burden, both physical and psychological, that is underrecognized and undertreated. The high symptom burden significantly impacts the quality of life for patients and their families. This review enumerates the various physical and psychological symptoms that patients with CKD often experience and guides in the management of these symptoms. This review follows the recommended international guidelines and has been tailored to suit the Indian context.
Keywords
End-stage kidney disease
pharmacological management
symptoms
APPENDIX 1
APPROACH TO SYMPTOM MANAGEMENT IN END-STAGE KIDNEY DISEASE PATIENTS
Empathetic communications, active listening

Assess proactively

Document symptoms with scores – monitor until relief

Encourage questions and clarify

Assess the symptom; acknowledge the distress, and address both

Routine use of validated Tools – Integrated Palliative Care Outcome Scale Renal

Evaluate and explain the contributors thoroughly

Discuss and agree upon goals of care with the patient, e.g., improvement in function

Correct the correctable contributors

Integrate nonpharmacological options early

Employ MDT expertise

Assist, arrange for support devices, aids for symptom relief, where indicated

Consider availability, accessibility, and pharmacoeconomics of prescribed drugs

Improve compliance by using the simplest prescription regime

Monitor relief, and improved functions, prescription adherence, compliance, adverse effects.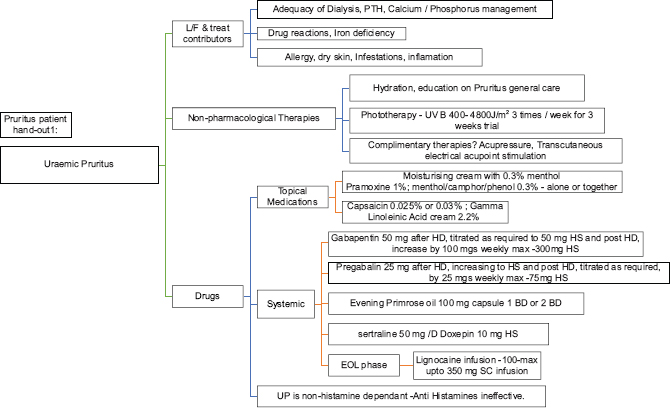 UREMIC PRURITUS
Ref: Am J Kidney Dis 2017;70:638-55.
PRURITUS PATIENT HAND-OUT (BRITISH ASSOCIATION OF DERMATOLOGISTS)
Minimize scratching. Keep short fingernails. Try patting the skin instead of scratching. Try to avoid situations where you tend to scratch by observing habits

Avoid hot water baths for long periods as hot water may remove the natural oils from your skin. Bathe or shower quickly in tepid (not hot) water no more than once daily. Use soak baths in cool water

Use gentle soaps, limit soaping to axilla, groin. Avoid using soaps or foaming body washes even if they claim to be good for dry itchy skin. Many of these contain detergents which remove natural oil from the skin

Pat dry the skin, quickly moisturize while still damp. Use airy, cool cotton to wear

Keep your bedroom cool and do not sleep with heavy or heat retaining bedclothes. Room moisturizer is helpful during dry seasons for example winter. If you are hot and itchy during the day a fan can help to cool the skin down

Aggressive moisturization – People with pruritus usually have dry skin, and therefore, moisturizers may help to soothe the dry skin. They ease itching, reduce scaling, soften cracked areas, and help the penetration of other topical treatments. Use moisturizers which do not have perfumes, preservatives. Hydrate orally, as per urine output

For quick relief – You may find that laying a cool towel soaked in moisturizing cream on the skin can reduce the feeling of itch. A cooled moisturizer which has been kept in the refrigerator may also help.
RESTLESS LEG SYNDROME
Ref: CKMCare.com, International Restless Legs Syndrome Study Group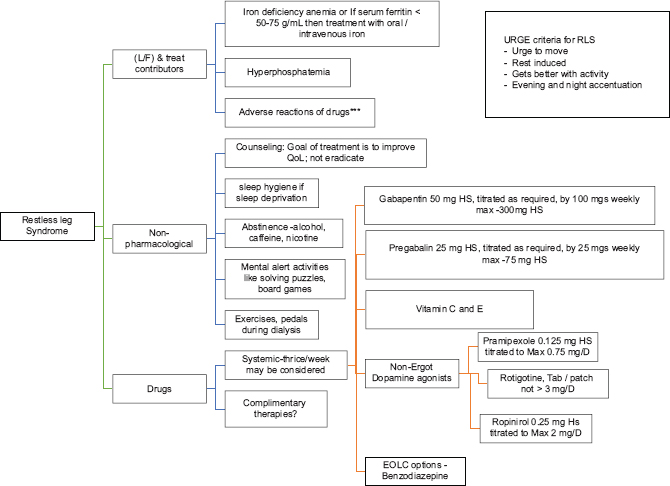 *** Dopamine antagonists – Haloperidol, metoclopramide, risperidone, quetiapine, olanzapine, anti-depressants – SSRIs, SNRIs, TCAs, opioids, Ca blockers, carbamazepine, lithium
Lifestyle
Avoid substances that can trigger symptoms, such as alcohol, tobacco. Limit caffeine intake

Show all the drugs that you take, to the doctor

Moderate aerobic exercise during the day can also help

Sleep Hygiene (vide infra)

If you need to travel for long periods of time, consider traveling at a time when your symptoms are least severe (usually in the morning). Try to plan for breaks or periods of time when you can walk around and stretch.
Activities that can reduce symptoms
Walking, stretching, massaging the affected area

Taking a warm or cool bath, applying hot or cold packs, soaking in a warm bath can be helpful

Relaxation techniques

Mentally distracting activities, such as crossword puzzles, crochet, or talking to someone.
NAUSEA/VOMITING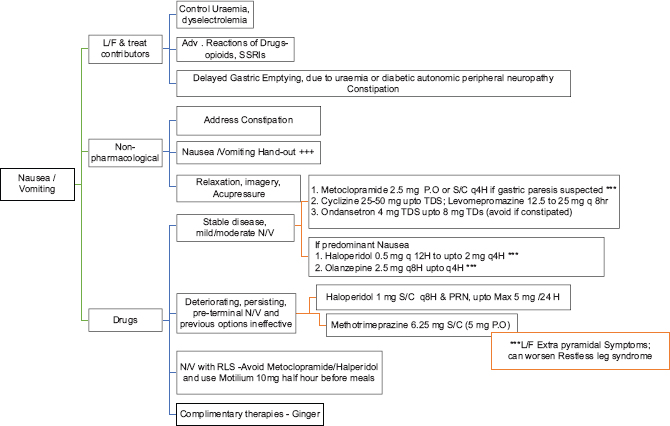 NAUSEA/VOMITING HANDOUT
Oral hygiene

Small volume, frequent meals, chewed slowly

No Alcohol

Advice to drink water before/after, but not with meals

Minimize aromas

Use ginger

Use Loose fitting clothes

Avoid spicy, greasy, excessively sweet foods, patient choice

Relax in up-right position after meals, to facilitate gastric phase of the digestion

Apply cool damp cloth on forehead/nape of the neck.
NOCICEPTIVE PAIN
Ref: Safe and Effective Management of Pain in People with CKD. Sara N. Davison et al; CJASN 14: 1551–1553, 2019.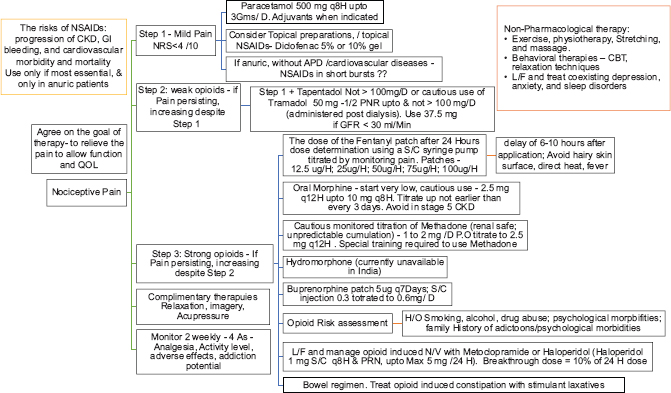 BONE PAIN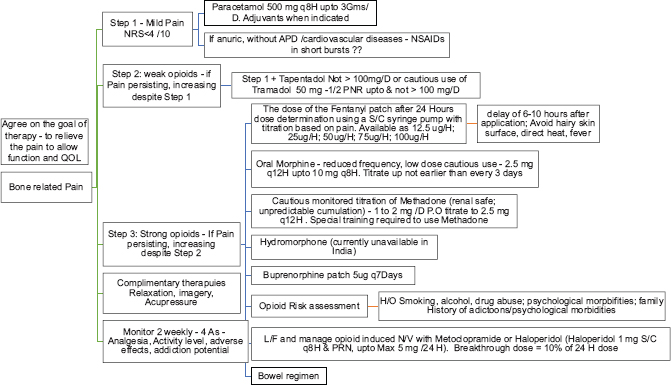 NEUROPATHIC PAIN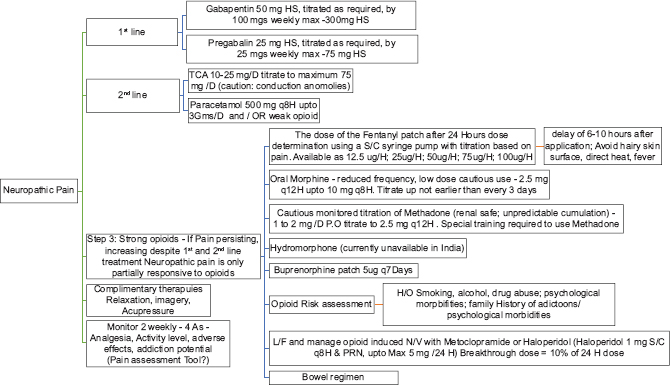 BREATHLESSNESS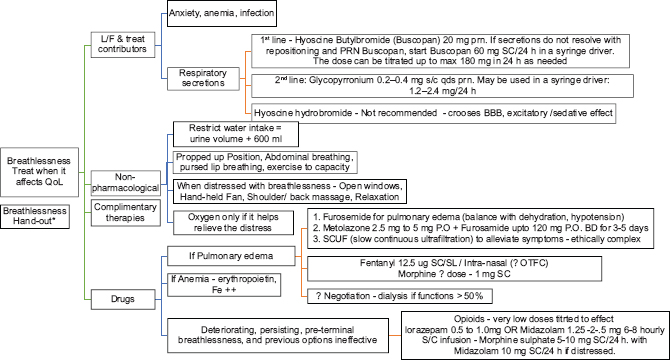 *Breathlessness – Non-pharmacological therapies
Explore triggers and alleviators

Help experience awareness when symptom is under control

Educate belly breathing, pursed-lip breathing

Music, meditation, mindfulness, relaxation techniques

Diet review

During an attack.

Open windows, open space around patient, loosen clothes

Reassurance, calmness in the responses

Handheld fan, ceiling fan – Trigeminal V2 stimulation

Oxygen – if it helps relieve symptom

Shoulder-back massage
SLEEPLESSNESS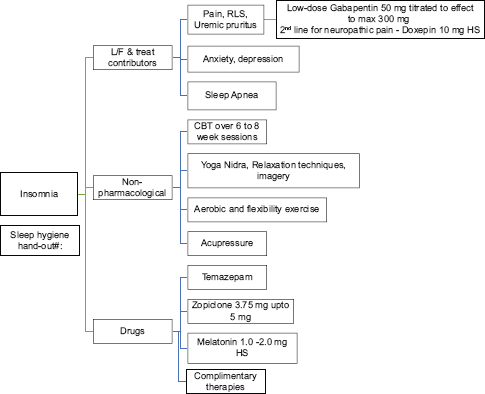 #Sleep Hygiene Handout: Ref: www.cci.health.wa.gov.au;
Get regular. Train your body to sleep well by going to bed and getting up at the same time every day, no matter how well or how poorly you have slept, even on weekends and days off!

Get Some Natural Light. Try to spend some time outdoors or in natural light every day. Getting some sunlight early in the day can be helpful for setting your body's natural wake and sleep cycle

Sleep when sleepy. Only try to sleep when you feel tired or sleepy, rather than spending too much time awake in bed

Get out of bed when not sleeping and try again. If you haven't been able to get to sleep after about 20 min or more, get up and do something calming or boring until you feel sleepy, then return to bed and try again. Sit quietly on the couch with the lights off (bright light will tell your brain that it is time to wake up) or read something boring like the phone book. Avoid doing anything that is too stimulating or interesting, as this will wake you up even more

Avoid caffeine and nicotine. It is best to avoid consuming any caffeine (in coffee, tea, cola drinks, chocolate, and some medications) or nicotine (cigarettes) for at least 4–6 h before going to bed. These substances act as stimulants and interfere with the ability to fall asleep

Avoid alcohol. It is also best to avoid alcohol for at least 4–6 h before going to bed. Many people believe that alcohol is relaxing and helps them to get to sleep at first, but it interrupts the quality of sleep

Use bed for sleeping. Try not to use your bed for anything other than sleeping and sex, so that your body comes to associate bed with sleep. If you use bed as a place to watch TV, eat, read, work on your laptop, pay bills, and other things, your body will not learn this connection

No napping during the day. This makes sure that you are tired at bedtime. If you can't make it through the day without a nap, make sure it is for less than an hour and before 3 pm

Sleep rituals/routines. You can develop your own rituals of things to remind your body that it is time to sleep. Establish a set routine that you follow every night. For example, have a hot bath, put on your pajamas, brush your teeth, and then listen to soft music and read on the couch until you start to feel sleepy and then go to bed. Some people find it useful to do relaxing stretches or breathing exercises for 15 min before bed each night or sit calmly with a cup of caffeine-free tea

Relax. Try doing something to relax your body and mind before going to bed. Try taking a hot bath 90 min before you plan to go to bed. Or, try a relaxation exercise (see Calm Breathing and Progressive Muscle Relaxation), meditation, or listening to calming music

Bathing. Having a hot bath 1–2 h before bedtime can be useful, as it will raise your body temperature, causing you to feel sleepy as your body temperature drops again

No clock-watching. Frequently checking the clock during the night can wake you up (especially if you turn on the light to read the time) and reinforces negative thoughts such as "Oh no, look how late it is, I'll never get to sleep" or "it's so early, I have only slept for 5 h, this is terrible"

Don't worry. Leave your worries about work, school, health, relationships, etc., out of the bedroom. Try scheduling a "worry time" earlier in the evening to deal with your worries. Write a to-do list for the next day/week. Maintain a journal and jot down the events, thoughts of the day, plans for the next day is helpful. If you wake up in the middle of the night worrying, try writing down your worries and tell yourself that you will address them in the morning

Exercise during the day. Regular exercise is a good idea to help with good sleep, but try not to do strenuous exercise in the 4 hours before bedtime. Morning walks are a great way to start the day feeling refreshed!

Eat right. A healthy, balanced diet will help you to sleep well, but timing is important. Some people find that a very empty stomach at bedtime is distracting, so it can be useful to have a light snack, but a heavy meal soon before bed can also interrupt sleep. Some people recommend a warm glass of milk, which contains tryptophan, which acts as a natural sleep inducer

The right space. It is very important that your bed and bedroom are quiet and comfortable for sleeping. A cooler room with enough blankets to stay warm is best, and make sure you have curtains or an eye mask to block out early morning light and earplugs if there is noise outside your room. Make sure that you have a supportive mattress and fresh, comfortable bedding. Also, try to ensure that your room is not too hot or cold, minimize noise, and block out light

Keep daytime routine the same. Even if you have a bad night sleep and are tired it is important that you try to keep your daytime activities the same as you had planned. That is, don't avoid activities because you feel tired. This can reinforce the insomnia

Start Small! Making small changes can have a large impact on your sleep. Don't try to do everything all at once. Instead, pick one or two strategies and try them consistently. When you're ready, try adding a new strategy. The goal is to slowly start increasing behaviors that can help you sleep, while reducing the things that are interfering with your sleep

Be Consistent. Pick a strategy and use it consistently. Try to do the same thing every night

Be Patient. These strategies can take time to improve your sleep. In fact, sometimes things can get worse before they get better. Hang in there and stick with it!

Chart Your Progress. Use the Sleep Diary form to keep track of the strategies you're using and your weekly progress.
FATIGUE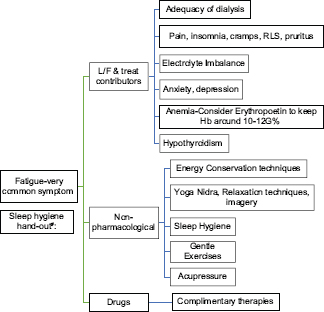 NUTRITIONAL CONCERNS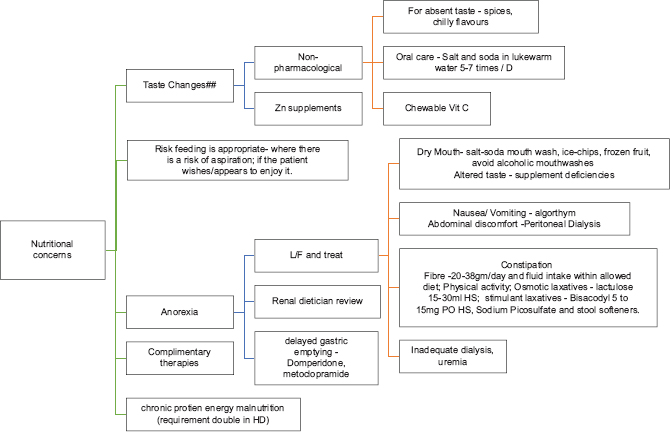 ## Urea → bitter; Sodium → salty; Potassium → metallic; reduced Zn→ absence of taste
GENERALIZED EDEMA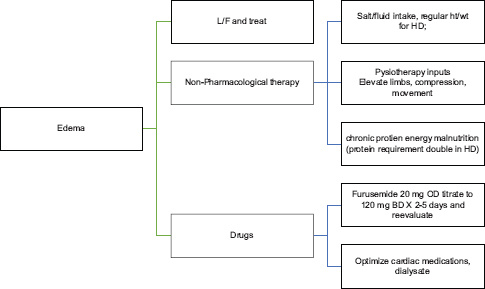 DEPRESSION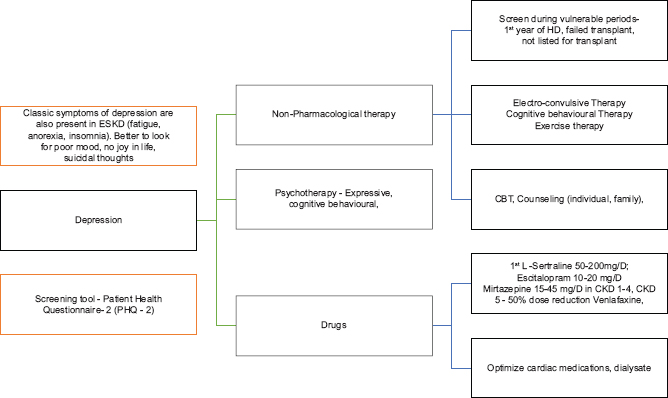 Show Sections