Translate this page into:

doi:
10.4103/IJPC.IJPC_24_19
Complementary Role of Intervention Radiology in Palliative Care in Oncology Setting
Department of Radiodiagnosis, All India Institute of Medical Sciences, New Delhi, India
1
Department of Onco-Anaesthesia and Palliative Medicine, All India Institute of Medical Sciences, New Delhi, India
Address for correspondence: Dr. Ekta Dhamija, Room Number 137, First Floor, Department of Radiodiagnosis, Dr. BR Ambedkar Institute Rotary Cancer Hospital, All India Institute of Medical Sciences, New Delhi - 110 029, India. E-mail: drektadhamija.aiims@gmail.com
Copyright: © 2019 Indian Journal of Palliative Care
Licence
This is an open access journal, and articles are distributed under the terms of the Creative Commons Attribution-NonCommercial-ShareAlike 4.0 License, which allows others to remix, tweak, and build upon the work non-commercially, as long as appropriate credit is given and the new creations are licensed under the identical terms.
Disclaimer:
This article was originally published by Wolters Kluwer - Medknow and was migrated to Scientific Scholar after the change of Publisher; therefore Scientific Scholar has no control over the quality or content of this article.
Abstract
Owing to advances in treatment of cancer, there has been increase in life expectancy. Palliative care aims at improving quality of life of patients suffering from malignancy and is now recognized as a separate subspecialty. Management of cancer patients needs a multidisciplinary approach, and radiology has a key role to play at every step of it. Interventional radiology has broadened its scope immensely over the last decade with development of newer and less invasive applications useful in oncology and palliative care. The role of interventional radiologists begins from obtaining tissue for histopathological examination and extends to controlling disease spread with ablation or chemoembolization, to managing the tumor-related complications and relieving stressful symptoms such as dyspnea and pain. This article aims to review the interventional radiologist's arsenal in managing patients with malignancies with a special emphasis on palliative care, providing a more holistic approach in improving the quality of life of cancer patients.
Keywords
Fluid drainage
intervention radiology
neurolytic blocks
palliative care
I
NTRODUCTION
Imaging is an integral and indispensible part of workup of any cancer patient. It encompasses diagnosis, staging, tissue sampling, treatment strategies, and follow-up for response assessment. A component of imaging which extends beyond routine cross-sectional imaging done for staging and response assessment is interventional radiology (IR). The role of latter is crucial and much needed at multiple stages of patient management starting from image guide tissue sampling to executing interventional procedures with curative or palliative intent. Likewise, palliative care is another important front in oncology. It aims at improving quality of life of patients not only physically but also spiritually and emotionally. Both intervention radiology and palliative care work hand-in-hand in more fronts than looked upon commonly.
This article aims at elaborating the scope of IR in oncology and palliative care [Table 1].
Management of primary malignancy or metastases
 Percutaneous ablation
 TACE
Management of complications
 Drainage
 Obstruction (PCN, PTBD, gastrostomy, cholecystostomy, etc.)
 Embolization to achieve hemostasis
 Pain management
Miscellaneous: Establishing venous access
M
ANAGEMENT OF

M

ALIGNANCY OR

M

ETASTASES
Percutaneous ablation
IR-mediated tumor ablation causes tumor necrosis by deposition of energy in the tissue by means of radiofrequency ablation (RFA), microwave, ultrasound, laser-induced thermotherapy, cryotherapy, and irreversible electroporation. RFA is considered to be safe, with a mortality rate of 0.3% and a major complication rate of 2.2%.[1] In RFA, electromagnetic energy is administered in a radiofrequency range to the target tissue causing tissue temperature to rise above 60°C with resultant thermal damage and cell death. RFA has gained popularity and is now considered the treatment modality of choice in appropriate liver tumors (hepatocellular carcinoma [HCC]).[2] Few authors have suggested RFA as first treatment option in single liver lesions that are 2 cm or smaller in size.[34] RFA has also been successfully used in unresectable and potentially resectable liver metastases from colorectal cancer[56] [Figure 1]. In palliative care, RFA is used for treatment of painful bone metastases refractory to palliative radiotherapy.[7]

Transarterial chemoembolization
Transarterial chemoembolization (TACE) is used in the treatment of HCCs, where selective hepatic artery cannulation is done and a chemotherapy agent is directly infused in tumor bed followed by an embolic agent that occludes the flow through the catheterized artery. Ischemia produced by the embolic agent makes the tumor cells susceptible to damage by the cytotoxic agents. The advantage of TACE over systemic chemotherapy is that delivery of the chemotherapeutic agent is targeted at the lesion allowing a higher local concentration of the agent and lower systemic doses. The liver tolerates TACE procedure due to its dual blood supply. TACE is the standard treatment in Barcelona clinic liver cancer stage B (intermediate HCC) tumors and is performed with palliative intent in larger unresectable tumors. Overall survival rates for the combination therapy (ablation and chemoembolization) are found to be higher.[8]
M
ANAGEMENT OF

C

OMPLICATIONS
M
ISCELLANEOUS
Central venous access and other venous interventions
Cancer patients often require long-term venous access for administration of drugs as well as repeated blood sampling. Permanent venous access is most commonly obtained through the internal jugular vein. "Landmark method" is used to be employed traditionally to locate and puncture the venous sites. Blind or surface marking-guided central venous catheter (CVC) insertions are associated with number of potential complications including pneumothorax, inadvertent injury to arteries, and nerves. USG-guided CVC access has been proven to not only reduce the number of attempts but also reduce arterial puncture and bloodstream infections.[53] There is 4–6 times increased risk of thrombosis in oncology patients as compared with the general population, which is further increased by placement of a CVC.[5455] Peripherally inserted central catheters (PICC) were introduced with the presumed benefit in terms of decreasing these complications. Typically, the cephalic or basilic vein is used as the access site, and the PICC line is advanced into the central veins with its tip lying in the superior vena cava (SVC) or at the cavoatrial junction under US and fluoroscopic guidance [Figure 5].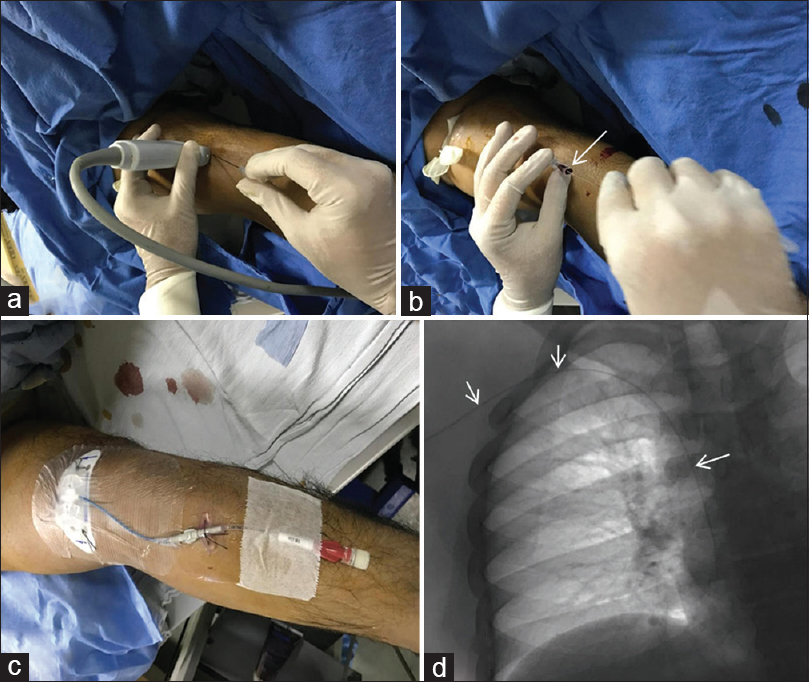 Malignancy accounts for up to 70% cases of SVC syndrome. Other causes include thrombosis from CVCs and pacemaker leads.[5657] Although no scientific evidence exists, endovascular treatment has been proposed as a first-line treatment for malignant SVC obstruction.[5859] Similarly, obstruction of inferior vena cava (IVC) may result in pedal edema, venous ulcers, renal vein thrombosis, and/or renal insufficiency (when IVC obstruction is at or above the level of renal veins) and Budd–Chiari syndrome (when IVC obstruction is at the level of hepatic veins).[6061] IVC occlusion can be treated successfully using endovascular techniques, and a study by Razavi et al. has reported to have a primary patency rate of 80% at 19 months.[606263] The generally accepted indications of IVC filter placement include failure, contraindication, and complications of anticoagulation.[64] Cancer patients are at an increased risk of venous thrombosis as well as bleeding when on anticoagulation.[65] Placement of IVC filters is an option in these patients for preventing pulmonary embolism.
C
ONCLUSION
With the expanding application of minimally invasive techniques to the investigation and management of malignancies, the interventional radiologist is assuming a more prominent role in the multidisciplinary team that cares for the patient with cancer. The use of IR techniques in oncology patients should be evidence based to ensure optimal outcome and minimize potential complications.
Financial support and sponsorship
Nil.
Conflicts of interest
There are no conflicts of interest.
Show Sections