Translate this page into:

doi:
10.4103/IJPC.IJPC_141_18
The Prevalence of Chronic Pain among Adults in India
Department of Anaesthesia and Pain Medicine, UCMS and GTB Hospital, Delhi, India
1
Department of Anaesthesiology, Critical Care and Pain, Division of Pain, Tata Memorial Hospital, Homi Bhabha National Institute, Mumbai, Maharashtra, India
2
Department of Anesthesiology, Pain and Palliative Care, Institute Rotary Cancer Hospital, All India Institute of Medical Sciences, New Delhi, India
Address for correspondence: Dr. Parmanand N Jain, Department of Anaesthesiology, Critical Care and Pain, 2nd Floor, Main Building, Tata Memorial Hospital, Parel, Mumbai, Maharashtra, India. E-mail: pnj5@hotmail.com
Copyright: © 2018 Indian Journal of Palliative Care
Licence
This is an open access journal, and articles are distributed under the terms of the Creative Commons Attribution-NonCommercial-ShareAlike 4.0 License, which allows others to remix, tweak, and build upon the work non-commercially, as long as appropriate credit is given and the new creations are licensed under the identical terms.
Disclaimer:
This article was originally published by Medknow Publications & Media Pvt Ltd and was migrated to Scientific Scholar after the change of Publisher; therefore Scientific Scholar has no control over the quality or content of this article.
Abstract
Background:
The prevalence of chronic pain (CP) is well described in Europe, America, and Australia. However, little knowledge is available of the prevalence of CP within Asia or Southeast Asia. Given the cultural and genetic variation in pain causation, manifestation, and reporting, the findings of previous western studies cannot be extrapolated to Asian countries. A prevalence study was needed to be carried out to quantify the magnitude and impact of CP in the adult population in India.
Methods:
Two sets of questionnaires were designed. The first, a screening questionnaire was used telephonically to identify the prevalence of CP, and should there be CP; the second, a detailed questionnaire was administered, to characterize the features and impact of pain. The interviews were carried out face-to-face.
Results:
A total of 4326 Indian patients were screened, and 836 completed a detailed pain questionnaire during 2006. The prevalence of CP was found to be 19.3% (n = 836). There was a higher prevalence in females (25.2%). Pain prevalence increased steeply beyond the age of 65 years old. There was a significant impact of CP on work and daily function.
Conclusion:
This Indian adults' population survey about CP found a higher prevalence of CP as compared to other Asian pain prevalence studies; however, the impact of pain was just as significant. In a rapidly aging population, CP is emerging as a significant healthcare problem which may likely to exert an increasing toll on the existing social infrastructure within the next two decades.
Keywords
Chronic pain
India
prevalence
questionnaires
surveys
I
NTRODUCTION
Chronic pain (CP) is a major healthcare problem. Although acute pain may reasonably be considered a symptom of a disease or trauma which may successfully be treated. However, CP may be considered a disease in its own right as described by European Federation of International Association for the Study of Pain (IASP) Chapters Declaration on Pain.[1] Pain is just not a symptom of a disease but a disease state in itself. The IASP provides a widely used definition of CP that takes into account duration, severity, and "appropriateness". IASP defines CP as pain without apparent biological value that has persisted beyond the normal tissue healing time (usually taken to be 3 months).
CP is one of the most disabling problems with significant health, social, and economic repercussions. Efforts to determine the prevalence of CP in the general population are faced with various challenges such as variations according to the population sampled (general population vs. primary care), the methods used to collect the data, demographics (age, sex, income, and urban-rural divide,) and the criteria used to define "CP." Pain perceptions and behavior are heavily influenced by culture and by the sociocultural context of people.
Approximately 30% of the world's population suffers from pain. Various regional pain surveys' reliable estimates indicate that the CP prevalence is somewhat closer to 30%–40%.[234567] A big CP prevalence survey "Pain in Europe" reported it as 12%–30% in the European countries.[7] However, in a four countries Asian pain survey, Singapore reported a lower prevalence of CP as 8.7%.[8] In Japan, Thailand and Myanmar CP prevalence has been reported to be 17.5, 19.9%, and 5.9% respectively.[9] This pain survey is the first-ever extensively conducted CP prevalence study in Indian population. We report the detailed findings of the prevalence, its impact on health, types of treatment used and its social impact on the adult population.
M
ETHODS
This cross-sectional study for evaluating the prevalence of CP in Indian population was carried out between April and July 2006. Two sets of questionnaire were used. All subjects of either gender aged between 18 and 80 years of all socioeconomic classes were included for listing (i.e., screening) listing questionnaire (LQ). The subjects who were suffering from CP for a duration of more than 3 months, presence of pain in last month, and pain several times a week were then subjected to detailed questionnaire (DQ). The DQ interviews were carried out face-to-face. DQ was designed to uncover areas such as characteristics of pain, the impact of pain, attitudes to pain, beliefs, and cultural practices prevalent in the society. Questions were included about how the CP affected their quality of life. Details of treatment taken for pain by patients were also enquired; types of analgesics, over-the-counter (OTC) or prescribed by a doctor, type of doctor, and also the details of nonpharmacological treatment received by patients.
Sample selection
Urban-to compensate for heterogeneity arising due to difference percentage of people residing in different types of towns, the urban population stratum was split across a total of 5 classes as:
Class population
Mega metros 40,00,000+

Metros 1,000,000–3,999,999

Large towns 500,000–999,999

Small towns 100,000–499,999

Class I and below towns <100,000

Towns with a population >20,000 were included in this study. The houses surveyed were based on cluster sampling. The adult of the household selected was then asked the questions of LQ. If any of the households had CP, the sufferer was interviewed on a DQ. To avoid interviewer bias and ensure randomness, KISH grid was used if more than one person was eligible for DQ interview in a single household.
Rural
Sampling in rural India was done using sociocultural regions (SCRs). To cover all the states, total sample was allocated to SCRs. One district was taken as representative of that SCR. Within this district, 10 villages were then selected using Probability Proportional to Size method. To select households within a village, the interviewer drew a map of the village in consultation with an opinion leader. The map indicated clusters of households and 10 such homogenous clusters were selected systematically. In each cluster, 7–8 listings were carried out with a gap of five households between every two contacted ones, to yield 75 interviews. Subsequently, interviews were carried in same way as in urban clusters, through the face to face interview method.
Measures
The LQ included questions on demographic parameters such as age, gender, urban/rural as well as questions to detect the prevalence of CP. IASP definition of CP was considered as benchmark for identifying a CP sufferer.
CP-sufferer should have:
Suffered from more than 3 months

Suffered pain during last month

Suffered pain several times a week

Intensity of pain more than 4/10.
The second set of questionnaire, DQ, was designed for respondents with moderate-to-severe CP. It included questions related to pain characteristics, the impact of pain on quality of life, doctor visits, and treatment obtained by the sufferers.
To test the robustness of the definition of CP and to test the accuracy, relevance, comprehensibility, and user-friendliness of LQ and DQ, a pilot study was carried out in December 2005. In addition, validation interviews were carried out with specialist pain physician to ensure the quality of field work and steps were undertaken in line with TNS quality control systems.
Statistical methods
The data were analyzed using SPSS (IBM SPSS Statistics for Windows, Version 15.0. Armonk, NY: IBM Corp). Two sets of data were generated from the survey; the LQ data and DQ data. Standard error (SE) was derived based on simple random sampling at the 95% level of confidence.

Where P = Percentage estimate from the survey
n = Sample size.
R
ESULTS
A total of 6549 households were contacted telephonically, of which 4326 (66%) screened individuals completed the LQ. Of these, a total of 2176 (50.3%) respondents had rural background, and 2150 (49.7%) respondents were from the urban area. Eight hundred and thirty-six (19.3%) respondents (415 rural and 421 urban) were found to have chronic persistent pain and were subjected to DQ. Thus, an overall prevalence rate of 19.3% was found for CP in the Indian population.
D
ISCUSSION
This global CP prevalence survey found that 19.3% Indian adult population suffers from CP. CP is a hugely growing problem. It becomes complex due to underreport, undertreatment, and low priority in developing countries. Half of the survey population belonged to the rural population who are suffering in silence probably due to nonavailability of effective and safe analgesic drugs. Pain is the most common reason for patients to seek medical advice globally. The World Health Organization estimates that 80% patients with severe pain never receive any adequate treatment. Shakespeare had said that "when sorrow comes, they not come as single spies but in battalions." CP is often associated with depression, anxiety, anorexia, insomnia, fatigue, and accompanied by social challenges related to family, work, costs, finances. Various levels of understanding about the prevalence rate of CP exists. Using different definitions, the prevalence rate of CP has been found to vary from 8.7% to 42% in previous studies.[234567] India is a country with a large population of 1.2 billion. The results show that age-standardized prevalence of CP condition was 37.3% in developed countries and 41.1% in developing countries.[10] They found no obvious association between economic disparities and prevalence of CP.
This study shows a huge chronic burden in India by the prevalence rate of 19.3%, which translates into 180–200 million adults having CP. The exact figure cannot be calculated as this does not include patients admitted in hospital settings and the small sample of the total population. A later Indian survey reported a modest prevalence of CP as 13% in 2013.[11] There are many reasons for the underreporting of pain. Giving more emphasis on the disease management rather than pain, tolerating pain in silence, thinking that reporting about pain to busy physician is waste of their precious time or patients' coy predisposition. Some patients do not believe that analgesics can really relieve pain or some feel that it is easier to put up with pain rather than their side effects.
In United Kingdom, only backache has an economic burden of 1 billion pounds per annum. It is difficult to estimate the financial burden of CP in low- and middle-income countries like India. A meta-analysis found that prevalence of unspecified persistent pain may be about 34% in general population in these countries Table 5.[2] Since low- and middle-income countries population largely depends on government healthcare system for low-cost treatment, this prevalence study shall play an important role to emphasize on government and administrative agencies about the unmet need for the proper budget allocation, and organizing management plan for pain management at different healthcare levels.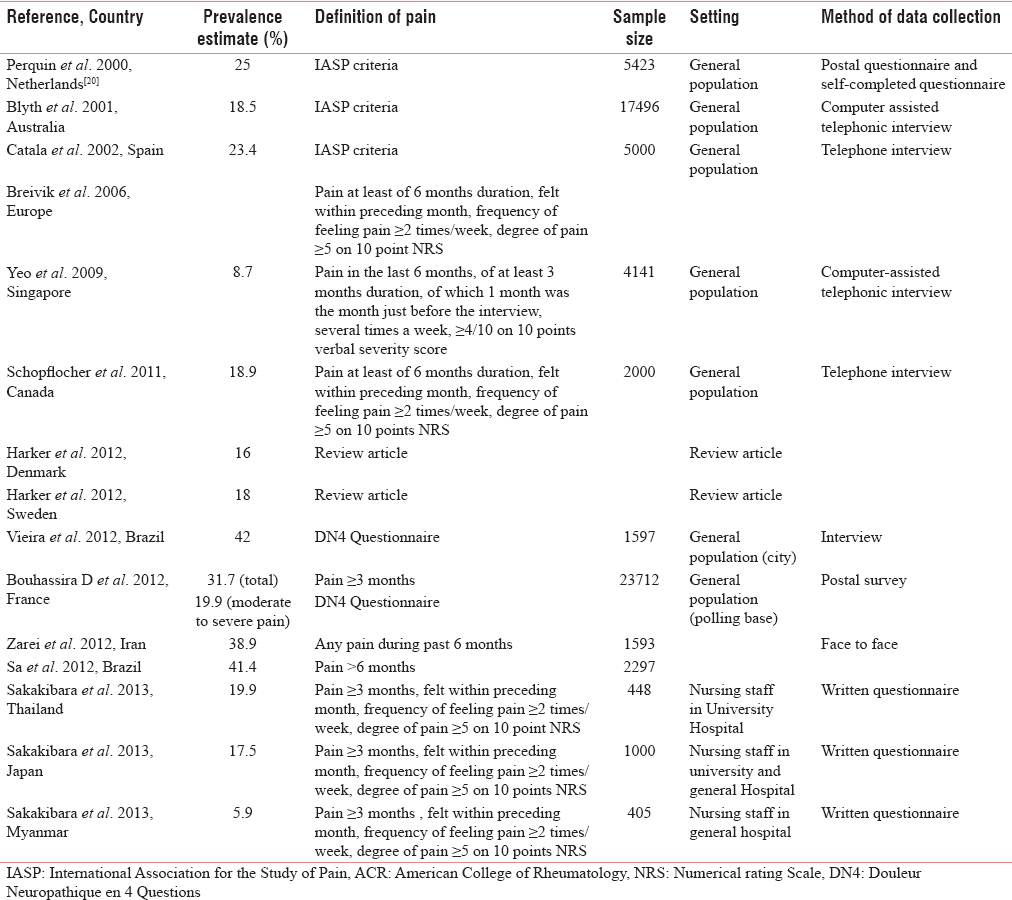 C
ONCLUSION
This study shows a CP prevalence of 19.3% in India. Rural population preferentially females suffer more unrelieved and untreated pain. The prevalence may increase significantly during next two decades, negatively impacting the global health status, man-hours, and overall economy of the nation. This prevalence study may serve as a benchmark of CP needs of the society and may help to initiate governmental efforts to mitigate the CP epidemic in India.
Financial support and sponsorship
Nil.
Conflicts of interest
There are no conflicts of interest. 20
Acknowledgments
This study was funded and supported by Mundi Pharma International. All the authors express deep gratitude and wish heart full thanks to Modi-Mundi Pharma India for their kind cooperation and support.
Show Sections