Translate this page into:

doi:
10.4103/IJPC.IJPC_53_20
Exploring the Financial Toxicities of Patients with Locally Advanced Head and Neck Malignancies, Being Treated in a Private Sector Hospital in North India: A Thematic Analysis
Address for correspondence: Dr. Saurabh Joshi, KD 75, Pitampura, Delhi – 110 088, India. E-mail: soshijo@gmail.com
Received: , Accepted: ,
Copyright: © 2021 Indian Journal of Palliative Care
Licence
This is an open access journal, and articles are distributed under the terms of the Creative Commons Attribution-NonCommercial-ShareAlike 4.0 License, which allows others to remix, tweak, and build upon the work non-commercially, as long as appropriate credit is given and the new creations are licensed under the identical terms.
Disclaimer:
This article was originally published by Wolters Kluwer - Medknow and was migrated to Scientific Scholar after the change of Publisher; therefore Scientific Scholar has no control over the quality or content of this article.
Abstract
Background:
The high cost of cancer diagnosis and treatment is a global concern. Evidence derived, mostly from high-income countries, shows how it gradually impacts the personal and household financial condition causing the increased psychosocial burden of the patient and their families (termed "financial toxicity").
Aim:
To qualitatively explore the financial toxicities in patients with advanced head and neck malignancies in India, and to consider how it impacts the patient and his family.
Methods:
Interviewing a purposive sample of 8 patients using semi-structured interviews face to face. Interviews were transcribed verbatim, and a thematic content analysis was carried out.
Results:
Four major themes were identified: burden and amplifying factors, impact, rescue and relieving factors, and learning and innovation. The burden of cost relates to diagnosis, treatment and non-medical costs which gets amplified while navigating the healthcare labyrinth. Emerging themes describe financial journey of cancer patients, the issues faced by them and the ways they tackle these issues during their treatment. Healthcare system factors like limited availability of adequate/comprehensive/meaningful insurance and reimbursements potentiate the toxicity. The financial toxicity leads to a significant adverse financial, psychological and social impact on the patient and the family. While moving through the process of care, there were a few learnings and innovations which patients proposed.
Conclusion:
This study provides qualitative evidence of the considerable and pervasive nature of financial toxicity in head and neck cancer patients in India. The findings have implications for all cancer patients and highlight the unmet need of psychosocial support for these patients.
Keywords
Financial planning
financial toxicity
goal based
health expenditure
insurance
palliative care
reimbursement
I
NTRODUCTION
Increasing incidence of cancer and the high cost of cancer diagnosis and treatment is a global concern. In India itself, the incidence of new cases is estimated to be 1.45 million each year, out of which approximately 30% of total cancer burden is constituted by Head and neck (H&N) cancers attributed to the widely prevalent tobacco consumption practices.[12345] Like all cancers, the diagnosis and treatment of H&N cancers place an economic burden on the family. 70%–90% of these are out of pocket expenses.[4] Of all H&N cancers in Delhi in the time period 2012–2014 (2552), 55% were in the economically productive age group of 25–60 years.[6] This cost burden gradually impacts the household financial condition and imposes psychosocial burden on the patients and their families. This economic change with its psychosocial consequences is termed as "financial toxicity." The elements constituting this, may vary across different regions, cultures and family structures; and needs to be understood. Existing research, using various tools, has so far focused on high-income countries (HIC), with limited/no information from India. In India, where health insurance coverage is not a norm (unlike USA); and there are no social insurance frameworks set up like the NHS in the UK, the money-related toxicity may vary from those of the HICs.
A scoping review was done in March 2018 in PubMed for economic burden of cancer in India with no date or language restriction. Search strategy was (("Cost of Illness"[Mesh] and "Neoplasms"[MeSH]) OR "Neoplasms/economics"[Mesh]) and India. Of the 110 studies identified, only six were relevant[789101112] and none of these had qualitative methodology. When we did a similar global scoping review to identify qualitative studies in this area as none were found in India, our search revealed 82 studies-((("Cost of Illness"[MAJR]) and cancer) OR ("Neoplasms/economics"[MAJR])) and qualitative. 10 were relevant in cancer and qualitative context. All 10 were from HIC and focused on various cancers.[13141516171819202122] Out of this, we could get only one study from United Kingdom on H&N cancers, which mainly focused on caregiver perspectives.[14] We decided to explore this relatively under-researched area using a qualitative methodology. The aim of our study was to qualitatively explore the financial toxicities in patients with advanced H&N malignancies in India, and to consider how it impacts the patient and his family.
M
ETHODOLOGY
Study design
The study was conducted in the oncology department of a tertiary care private sector cancer hospital in New Delhi, India, from August to December 2018; after taking ethical clearance from the institutional review board. Being a qualitative thematic analysis, purposive sampling was done. Indian, Hindi/English speaking patients between 25 and 60-years of age, diagnosed with H&N malignancy; who were also the main or the secondary earning members in the family, were planned to be chosen. They should have received at least 3 months of treatment, and were no >12 months-off treatment. Those who were unwilling or unable to provide consent, or had difficulty in speech and comprehension were excluded. After setting the criteria, the H&N Disease Management Group in the hospital was approached. They identified eligible patients by screening hospital case records. Eligible patients were then approached and explained about the study and given the information leaflet. They were given adequate time to go through the information, their queries were answered in subsequent outpatient visits and a written consent was obtained. The anticipated sample size was around 10–15. This was expected to increase or decrease based on saturation or emergence of themes after analysis of each interview.
Interview and data collection
The demographic details of patients were noted prior to interview, to get an idea of the socioeconomic status using Revised Kuppuswamy scale 2018.[2324] Researcher conducted an in-depth face-to-face interview using an interview guide, which were digitally recorded, anonymized and stored. Interview guide was formed basis the review of relevant literature and covered the financial experiences of cancer, descriptions of costs and reimbursements/insurances, the psychosocial, financial and spiritual impact of these costs. It also included, understanding the ways the obstacles were overcome, and whether the patients wished to make any relevant suggestions. Interviews lasted for around 30–45 min and were transcribed verbatim. The vernacular language interviews were translated and back translated to minimize any transcription/translation errors.
Data analysis
Patient recruitment stopped, once the new themes stopped emerging. The next step was familiarization with data, generating initial codes and identifying themes. Coding was manually executed on Microsoft word. Thereafter, the themes were reviewed, labeled to construct a meaningful data and final report was generated using this thematic analysis.[25] To minimize the bias which may arise from the researcher's background and life experiences, the researcher wrote down his prior experiences on the "cost of treatment in a private hospital" and reflexivity was used throughout.[252627] The analysis was done by first author and the transcripts were independently reviewed by two more authors. The coding was then done by consensus and important inputs from other researchers were utilized to ensure validity and reliability.
R
ESULTS
Eighteen patients were identified and out of them 15 could be contacted and 10 consented for the interview. Eight patients were interviewed as data saturation was achieved.Table 1 show the patient characteristics; majority of the patients were males (75%) and all except one patient belonged to upper or upper middle class.
| Participant | Age (year) | Gender | Cancer | Insurance/reimbursement | Kuppuswamy SES |
| --- | --- | --- | --- | --- | --- |
| P-1 | 60 | Male | Squamous cell carcinoma vocal cord | Private health insurance | Lower middle class (III) |
| P-2 | 52 | Male | Carcinoma right lateral border tongue | Government panel reimbursement | Upper middle class (II) |
| P-3 | 50 | Male | Carcinoma right buccal mucosa | Private health insurance | Upper class (I) |
| P-4 | 59 | Male | Gecurrent carcinoma right alveolus | Government panel reimbursement | Upper middle class (II) |
| P-5 | 56 | Male | Carcinoma right lateral border tongue | None | Upper middle class (II) |
| P-6 | 52 | Female | Carcinoma left lateral border tongue | None | Upper middle class (II) |
| P-7 | 50 | Female | Carcinoma supraglottic larynx | None | Upper middle class (II) |
| P-8 | 45 | Male | Carcinoma right lateral border tongue | Government panel reimbursement | Upper middle class (II) |
During the interviews, patients talked about their financial journey and its impact on them and their families, relationships within and outside the family, their positive and negative influencers, support systems, and also, the learnings and suggestions they gathered from this journey. First two themes [Figure 1] emerged around their negative experiences of battling with their finances. Next, two positive themes emerged around finding financial support, resilience and identifying new learnings from the skirmish. The experiences were more uniform in the negative themes; while the positive themes were reported by those who could preserve the positivity of their thoughts. For the sake of brevity and understanding; the results are discussed as major themes and sub themes.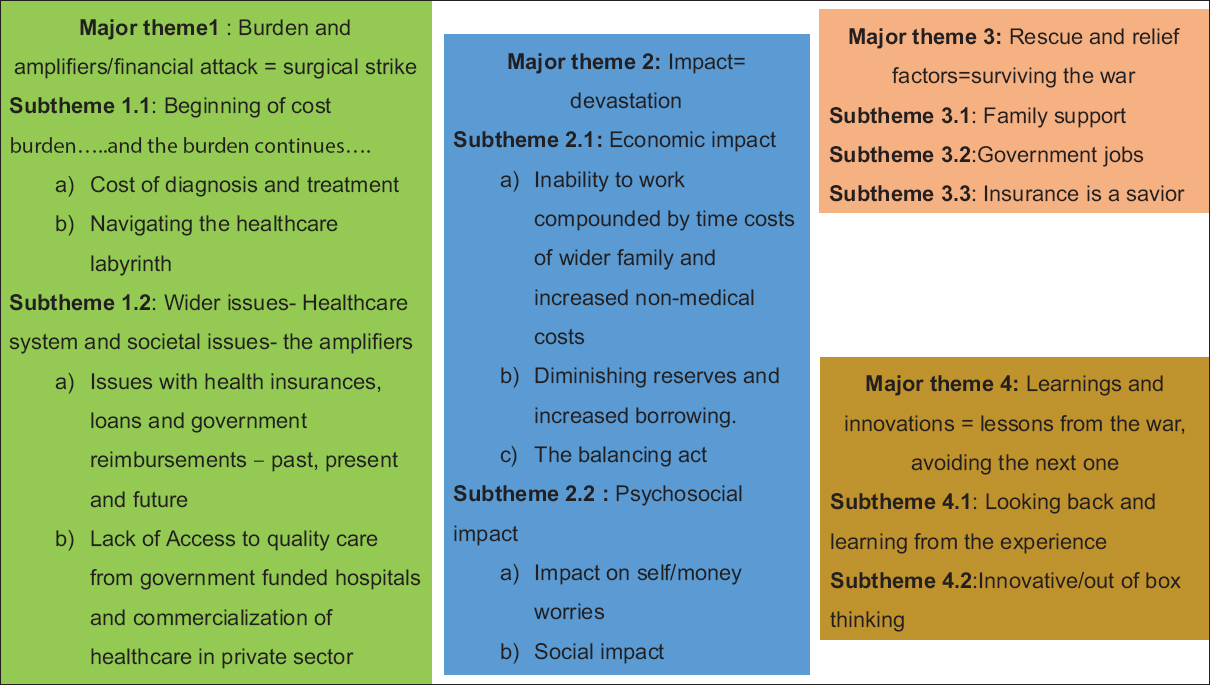 D
ISCUSSION
This qualitative study on adults in India with head and neck cancer clearly is first of its kind and clearly illustrates the multidimensional financial toxicity of cancer diagnosis and treatment, its short and long term repercussions, and various coping strategies used by the patients. Many of the findings are consistent with the limited studies in this area.[12212829]
Panic and preoccupation with working out the right diagnosis and line of treatment, finding out the appropriate place of treatment, and arranging finances for the same; takes the patient and their families through the cycle of multiple opinions, dilemma, finding resources; and finally landing up in an institution where the treatment starts.[23031] India has both government and privatized health-care sectors with >80% and 40% of outpatient and inpatient care respectively provided by the private sector hospitals.[4] Privatized health-care care costs are mostly paid either in cash, health insurances, or by panel reimbursements from the government departments. Patients reach a private set up either due to the fear of inadequacies in the government-funded hospitals or the thought that the facilities provided are better.[30]
Although high cost of cancer treatment is a well-known global phenomenon, an interesting finding in our study was the finding that initial diagnosis and treatment imposes an exponential cost in a short duration of time, which is particularly difficult to afford.[2930323334] It is compounded by inadequate reimbursements and healthcare insurances. Outpatient treatment and unsubsidized medicine costs are major contributors of the out of pocket cost burden, hence, the schemes which cover "only inpatient" hospital expenses are deficient in protecting against impoverishment.[3035] Awareness and education, lack of future visibility (and the idea of magnitude of financial burden which cancer could create) while planning health finances, poor social infrastructure, insufficient government policies and commercialization of health-care have increased the cost burden.[2830] Patients who travel long distances (or outstation) to reach the treatment facilities especially suffer more, both in terms of higher expenditures and advancement of the disease process. Various adjustments to mitigate the economic impact such as reducing expenses on children, travelling in overcrowded public transport (exposing themselves to infections) is like getting between a rock and a hard place.[3036]
Anxiety, financial insecurity, loss of morale, low self-esteem, threat to identity, and role dissatisfaction leaves the patient with mind-boggling survival issues and concerns about family economics after they die. Relationships see a lot of change from trivial difference of opinion/lack of support to cheating, fraud, abuse, and breakdown of the emotional bonds.[373839] All this, leads to a sense of loss of control, depression, stigma and existential distress.[740] Financial support from the family, employer reimbursements, and health insurances do offer some respite.[3041]
Though cancer is a health and financial catastrophe, it comes with its own set of learnings and opportunities to innovate; and propagate the change. It needs a right frame of mind and positivity of thoughts to learn from adversities and think out of box. The spectrum of this innovation spans right from advising newer ways of creating awareness, educating and preparing the society well in advance to deal with the financial catastrophe; to suggesting alternate methods of payment like EMIs; and to reduce the cost by crowd funding of latest equipment and machines. Identifying what "was" and "was not" in control and using that information to formulate financial coping strategies is a new facet, which we came across during this project.
C
ONCLUSION
This study is the first qualitative study from India focusing on financial toxicity from any kind of cancer. Besides the confusion and the loss of dreams associated with cancer, it puts a spot-light on the additional pain and suffering brought about by the financial stresses of trying to treat a disease which seems to drain the available family resources in its path. Clear information and early counseling of the families about costs, involving social support teams, and providing information on resources to help them cope would propagate good clinical practice. Innovative novel strategies need to be considered as the number of cancer patients and expenditure of modern treatment is only likely to grow further. Health insurance prioritization, early and goal based financial planning and adjustments for changing priorities at different points of time in life would come through public participation and efforts.
Like all other studies, we had our own share of limitations such as a small sample size, one urban private center which is not representative of all centers, not completely generalizable to other cancers as we have studied only head and neck cancers. A larger sample size and focus group interviews including immediate and wider family members, and social workers would contribute more to the understanding of this phenomenon. More investigation and research on this topic are needed.
Financial support and sponsorship
Nil.
Conflicts of interest
There are no conflicts of interest.
Show Sections