Translate this page into:

doi:
10.4103/0973-1075.185026
Palliative Care in Musculoskeletal Oncology
Department of Surgical Oncology, Orthopedic Oncology (Bone and Soft Tissue Services), Tata Memorial Hospital, Mumbai, Maharashtra, India
Address for correspondence: Dr. Ashish Gulia; E-mail: aashishgulia@gmail.com
Copyright: © Indian Journal of Palliative Care
Licence
This is an open access article distributed under the terms of the Creative Commons Attribution-NonCommercial-ShareAlike 3.0 License, which allows others to remix, tweak, and build upon the work non-commercially, as long as the author is credited and the new creations are licensed under the identical terms.
Disclaimer:
This article was originally published by Medknow Publications & Media Pvt Ltd and was migrated to Scientific Scholar after the change of Publisher; therefore Scientific Scholar has no control over the quality or content of this article.
Abstract
Patients in advanced stages of illness trajectories with local and widespread musculoskeletal incurable malignancies, either treatment naive or having recurrence are referred to the palliative care clinic to relieve various disease-related symptoms and to improve the quality of life. Palliative care is a specialized medicine that offers treatment to the disease-specific symptoms, places emphasis on the psychosocial and spiritual aspects of life and help the patients and their family to cope with advance stage cancer in a stronger and reasonable way. The overall outcome of musculoskeletal malignancies has improved with the advent of multidisciplinary management. Even then these tumors do relapse and leads to organ failures and disease-specific deaths in children and young adults in productive age group thus requiring an integrated approach to improve the supportive/palliative care needs in end-stage disease. In this article, we would like to discuss the spectrum of presentation of advanced musculoskeletal malignancies, skeletal metastasis, and their management.
Keywords
Bone tumors
Musculoskeletal oncology
Palliative care
INTRODUCTION
"Best supportive care"/end of life care is the care that helps all those with advanced, progressive, incurable illness to live as well as possible until they die. It enables the supportive and palliative care needs of both patient and family to be identified and met throughout the last phase of life and into bereavement. It includes management of pain and other symptoms and provision of psychological, social, spiritual, and practical support.[1] Patients suffering from malignant musculoskeletal tumors with widespread metastatic disease, where curative treatment is not possible with any available modality of treatment needs palliative care. Bone and soft tissue sarcomas are known to have moderate to high risk of developing distant metastasis before the initiation or during the course treatment. Approximately, 20-25% of osteosarcoma presents with lung metastasis and about 40% are known to develop distant metastasis at later stages.[2] Even though overall survival for chondrosarcoma is reasonable (70% at 5 years), few subtypes such as mesenchymal and dedifferentiated subtypes have dismal prognosis.[3] Ewing sarcoma is a systemic disease, which is also associated with high rates of systemic failures either at presentation, during, or immediately after the treatment completion. Similarly, soft tissue sarcomas are also known to disseminate leading to end-stage disease in about 50-60% of all diagnosed cases.[4] Despite advances in local control, adjuvant chemotherapy and radiotherapy, metastatic relapse after an initial clinical remission remains a significant clinical problem with 5-year survival for nonmetastasis bone and soft tissue sarcomas ranging from 50 to 75% with further significant drop for metastatic disease.[5] These aggressive bone and soft tissue sarcomas mainly affect adolescent and adults in their productive period of life and affect them physically, psychologically, and spiritually requiring a holistic approach to address their needs.[6]
Apart from primary bone sarcomas, skeletal system is a common site for disease dissemination from visceral malignancies such as lung, prostate, breast, thyroid, and kidney. Although there is availability of diagnostic tools, systemic and local therapy, the burden of primary malignancies and prevalence of skeletal metastasis has increased many folds. More than 50% of lung cancer, breast cancer, and prostate cancer patients develop skeletal-related events (SRE) at diagnosis or during the treatment. SRE can present with pain, pathological fracture, or with spinal cord compression (with or without neurological deficits) causing major morbidities and compromises the quality of life [Figure 1].[7] It poses an incredible challenge for palliative medicine to deal with all these end-stage disease patients who present at varied age groups with diverse social, economical, and spiritual agony. The treatment has to be tailored to the individual patient need for better quality of life. The present article discusses the various presentations of terminally ill patients with musculoskeletal primary and secondary malignancies and related treatment and rehabilitation.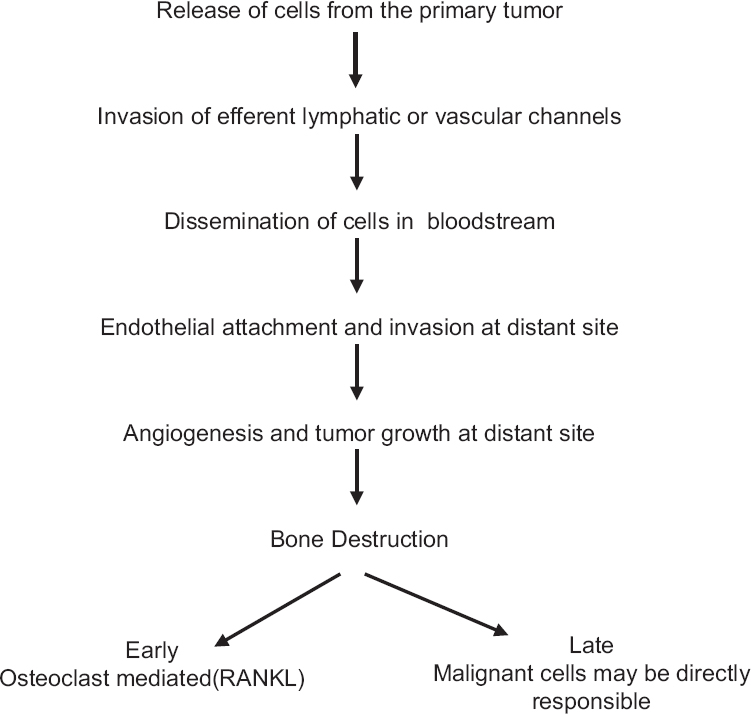 CONCLUSION
Palliative care, in a nutshell, is the constellation of services that improves patient-related outcomes in advanced stages of cancer. The specialized care helps the patients and their families to cope with the perils of advanced illness. When a patient is declared "Best supportive care," he or she is referred to the palliative care clinic where a holistic approach is commissioned to counsel the patients and their families, educate them and provide required evidence-based treatment to resolve the physical, psychological, and spiritual misery. Role of palliative care in bone and soft tissue sarcoma is immense because the inherently aggressive malignant tumors too often show local and distant recurrence in spite of multimodality treatment even in the best of the sarcoma treatment centers. This is the reason that from times long ago, hospice centers are operative throughout the country. Hospice centers are not just a place; it is an idea that enables patients to live well and die well. Palliative care requires the involvement of multidisciplinary approaches such as palliative medicine, Intervention radiology, radiotherapy, surgical oncology, and chemotherapy.
Financial support and sponsorship
Nil.
Conflicts of interest
There are no conflicts of interest.
Show Sections